Luxury Portable Restrooms For Fundraisers
Are you planning a fundraiser and searching for portable restroom trailers in Gainesville? If so, look no further! Jones Luxury Portable Restrooms is ready to take the comfort of your patrons to the next level. We're changing the way organizers and their guests think of adding extra restroom and shower facilities for fundraisers. Each of our units is climate controlled and fully stocked with hand soap and sanitizer, paper towels, toilet paper, and other standard bathroom comforts. Whether your fundraiser is an outdoor affair without accessible restrooms or indoors with limited facilities, we can help make your next fundraiser the best yet. Contact us today for a free quote!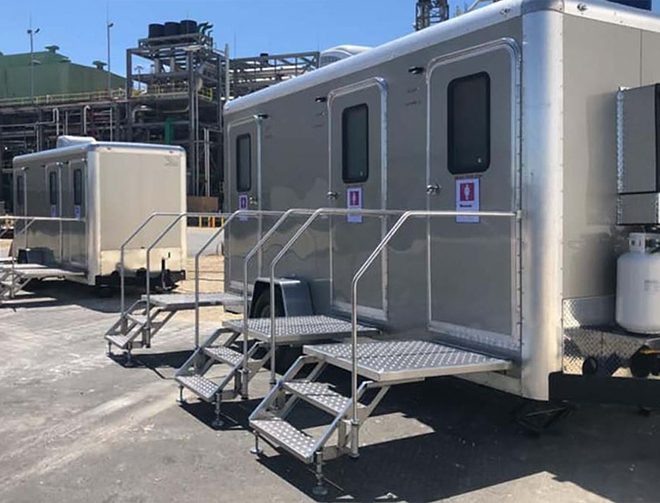 One Fundraiser, Many Options
Grassroots or black tie, we can provide a luxury restroom trailer or several for your next fundraiser. Our trailers come in five different sizes, from 2 stalls to 10 stalls, and are equipped with inside and outside LED lights for safety and comfort. We'll work with you and your team to determine the appropriate size and amount of trailers necessary for your fundraiser. For large-scale events, such as a multi-day or black-tie fundraiser, our 8- and 10-stall restroom and shower trailers offer plenty of space and comfort for guests to freshen up. Each trailer features two suites, including private stalls and urinals in the men's suite. A central stereo and partitioned heating and cooling contribute to the welcoming ambiance designed with comfort in mind.
Focus On Your Fundraiser, Not The Lines
Not much can damper the jubilant mood of a fundraiser quicker than long restroom lines, or worse, an out-of-order restroom. With our one-stop, upscale facilities meeting the needs of your guests, you will be able to spend more time doing what matters —  organizing and increasing awareness for your fundraiser's cause. Call us today to learn how our luxury portable restrooms and showers can benefit your fundraising event. Don't worry about installing additional electric connections or plumbing. Each trailer only needs one 110v dedicated 20-amp power source and a garden hose. Our team works quickly to set up each restroom trailer long before the fundraiser begins.
North Central Florida Portable Restroom Trailers
When you contact Jones Luxury Portable Restrooms, you'll discover our team knows what people want from portable restroom trailers. Each one of our units meets the requirements of the Americans with Disabilities Act and is fully cleaned and sanitized before setup. Worried about where to put the trailers? We work with you to determine the best location for access by the guests while minimizing any interference with the event. We're changing the perception of porta-potties one portable bathroom at a time.