Rent Luxury Portable Restrooms For Weddings
Planning any wedding involves many checklists and details. Whether you're having an intimate backyard ceremony or a beachfront soirée, Jones Luxury Restrooms makes sure you and your guests enjoy the party without a restroom-related hassle. Our portable restroom trailers let everyone spend more time celebrating instead of waiting in the restroom line.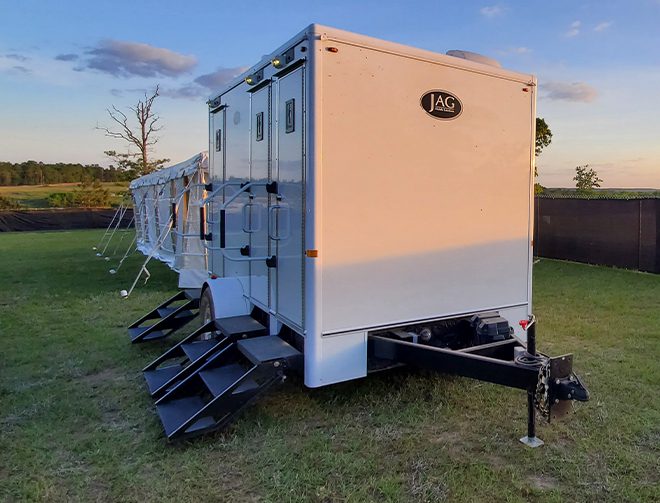 Luxury Portable Toilets For Any Wedding
Jones Luxury Restrooms offers a variety of portable toilet trailers in North Central Florida. With sizes ranging from 2 stalls to 10 stalls, no wedding is too big or small for us. A luxury restroom trailer looks like a permanent facility and does not forgo the amenities and comforts you expect in any restroom.
Our trailers are a great addition to any existing restroom facilities the location has. Depending on the number of wedding guests, a venue may not have enough restrooms to accommodate everyone without people having to wait in a line. When you rent from Jones Luxury Restrooms, our team makes sure every trailer is set up and fully stocked long before the guests begin to arrive.
Privacy & Accommodation In One Location
If you suspect that the on-site or nearby restroom facilities of a wedding venue will not be enough to handle the guest list, a portable restroom can ease those concerns. Portable restrooms are also a simple way to ease potential congestion before and after an indoor wedding ceremony.
When you rent our luxury restroom trailers, everyone will be talking about the beautiful ceremony — and top-notch accommodations. Our trailers are climate-controlled and feature LED lighting, giving you and your guests a place to refresh away from the crowd. Amenities in a luxury portable toilet from Jones Luxury Restrooms include vinyl flooring, private stalls, and metered faucets. The only thing each trailer requires is a power source and a typical garden hose.
Focus On The Event, Not Facilities
There's enough to worry about with a wedding, so Jones Luxury Restrooms strives to provide you with worry-free luxury portable toilets. When we arrive, you'll find each trailer is ready for your event with hand soap, paper towels, and anything else you would want.
A long-standing assumption about porta potties is they're one-size-fits-all and only have a basic function to boot. We overturn this misconception with our trailers' stylish decor meant to complement any event. Central stereo, crown molding, wainscoting, and automatic lighting are a few examples of how a restroom trailer from Jones Luxury Restrooms blends seamlessly into any event.
Portable Toilet Trailers In Gainesville, FL
Traditional portable toilets conjure thoughts of the last thing you'd want at a wedding. But when you contact Jones Luxury Restrooms, you'll find that luxury and portable toilet trailers in Gainesville, FL, and North Central Florida go hand in hand. Wedding guests will have plenty of space to freshen up or relax for a moment in a climate-controlled area. Don't let comfort and convenience be an afterthought when planning your next event. Contact Jones Luxury Restrooms today!