Rent Luxury Portable Toilets for Concerts
Indoor or outdoor, concerts are a pastime for many people. Spending a day or night with friends enjoying a favorite band and music creates lifelong memories. The atmosphere is lively and delightful. But, a lack of restrooms can ruin a great concert experience for any music fan.
A first-time concert or an annual, multi-day event can draw crowds from a couple hundred people to several thousand. Whether the venue has on-site restroom facilities or not, having extra portable restroom trailers is a great way to provide concert-goers an enjoyable experience. Jones Luxury Restrooms goes above and beyond providing the usual Gainesville restroom trailer. We understand the time and energy that goes into hosting a successful concert and aim to have the right number of luxury porta potties and showers in place before the musical acts arrive.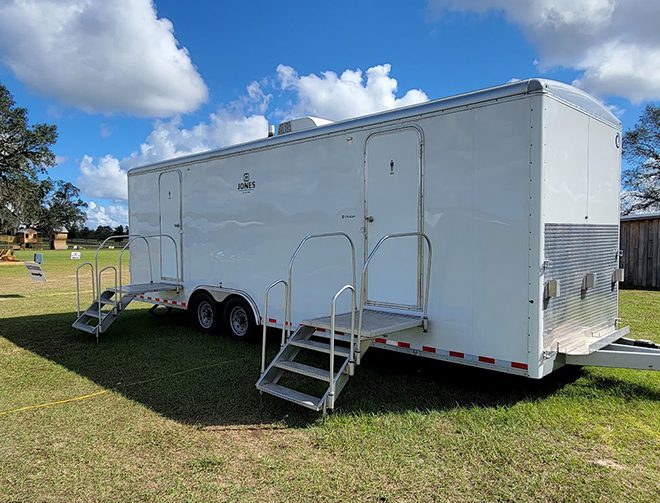 Porta Potties For Private Concerts
Concerts are popular for fundraisers and private events. Give your guests a place to refresh in private with a luxury portable restroom and shower from Jones Luxury Restroom. Every restroom trailer provides a well-lit and comforting atmosphere with LED lighting and vinyl flooring. Private stalls are stocked with hand soap, toilet paper, trash receptacles, and other comforts guests want.
Gainesville luxury portable toilets from Jones Luxury Restrooms dispel the myths about concert porta potties. These private units are climate-controlled and feature a vanity and wash basin for guests to clean up. Automatic lights turn on when the door opens so guests aren't left fumbling around inside, causing a potential injury. With trailers that range in size from 2 stalls to 10 stalls, your guests will spend their time enjoying the private concert instead of waiting in line for the restroom.
Luxury Portable Toilet For Concerts
As a concert organizer, your focus is on creating the best concert experience for attendees. Coordinating and scheduling staff, obtaining venue permits, and making sure there's enough parking are at the top of any to-do list. But what about restroom facilities? Sure, there may be some on-site but can they handle a larger than expected crowd? Jones Luxury Restrooms provides portable restrooms to help any concert be memorable for the music, not restroom hassles. We work with you to determine how many portable toilets and showers will accommodate the event and make sure they're set up upon arrival. The only thing our portable restrooms need for set up is a dedicated power source and standard garden hose. Let the concert be what guests talk about for months to come — call Jones Luxury Restrooms today!
Portable Toilet Trailers In North Central Florida
Jones Luxury Restrooms knows the concert itself is your focus, but having ample restroom facilities shouldn't be an afterthought. We're a full-service provider of ADA-accessible luxury portable toilets for any concert. Concert-goers can take a break from the music in our modern, climate-controlled trailers that feature private stalls and hardtop sinks. For concert organizers who want to provide top-notch portable restrooms for their next event in Gainesville, FL, or throughout North Central Florida, contact Jones Luxury Restrooms today!